Business Case for Sustainability
In working with Shell in 2000, we conducted the first comprehensive analysis of the sustainability business case. Examples include…
Quantifying the Business Case: Over $100 million in Savings
In 2016, a major multinational company needed hard numbers to convince the executive leadership team and the Board to invest in energy-saving technologies during especially difficult economic times. The business case was very clear: modest investments would result in over $100 million in cost savings over the next five years.
First Major Business Case Study for Shell in 2000
Toward the end of a five-year series of consulting engagements with Shell (1996-2001), Gib Hedstrom and Arthur D. Little colleagues developed a comprehensive report on the business case for sustainability. The results of this study, published in Arthur D. Little's Prism, provided the foundation for dozens of subsequent research projects on this subject. The basic business case is depicted below.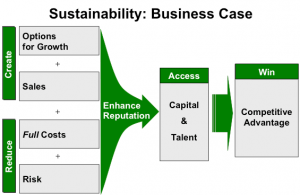 Business Case for Sustainability
A major global company asked Hedstrom Associates to help a cross-functional team determine the business value of taking a proactive stance on sustainability. We benchmarked leaders in the industry by using our Corporate Sustainability ScorecardTM to rate the client company and its competitors.